Remote Recording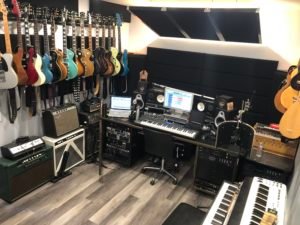 Are you recording your own music and are looking for some extra elements, textures and layers?  Do you need vocal harmonies?  Keyboards and synths? Guitars?
Korel's studio is equipped with a world class recording chain and top shelf instruments and effects.
Through simple email of files, you can send in a basic track of a song you are recording and Korel can provide almost endless layers and options that you can simply import into your session. This is perfect if you are a singer but would like some extra harmonies, or if you are recording your band but would like keyboard options such as synths, strings, pianos, organs, accordions, toy piano, harmonium, etc. Maybe you need acoustic and electric guitar options but don't have 30 guitars, a half dozen amps, and a huge inventory of effects pedals. Or maybe you're looking for oddball textures like glockenspiel or manipulated percussion tracks. In pretty much any scenario we can find some creative options and textures for your song.
And you don't have to leave your house.
"I worked with Korel remotely for Netflix's feature film because our team needed live guitar. He has helped us from the very early stage of our film to the end of the final mix day. He never hesitated to do fixes we needed which can be a very sensitive and time-consuming process. But He's answers been always YES. 
Our music team was very pleased with the quality and flexibility of different styles he could pull off. I highly recommend his service to everyone who needs quality guitar recording."
– Perry Woo, Film  Composer
Microphones:
Korby Blue – .1 Micron Large Diaphram 47/67 style Tube
AKG C414 XLII – Large Diaphram Condenser
AKG C1000 – Condenser
Royer R121 – Ribbon
Neumann KM 184 – Small Diaphram Condenser
Sure SM7 – Dynamic
Audio Technica 4047 – Large Diaphram Condenser
Blue Yeti and Rasberry USB
M-Audio Sputnik – .3 Micron Large Diaphram Tube
M-Audio Pulsars – Small Diaphram Condenser
Sure SM 57/58s – Dynamic
Instruments
Over 30 guitars and stringed instruments including:
Gibson, Fender, Gretsch, Taylor, Guild, Harmony, Rickenbacker, Kay, Hofner and assorted ethnic instruments.
Keyboards and other instruments including:
Vintage 1972 Fender Rhodes Piano
Vintage Yamaha CP-70 Stage Piano
Vintage Upright Piano
Saxophones, Harmonium, Toy Pianos, Glockenspiels, Acccordions, Circuit Bent Casio SK1, Stylophone, Various percussion and noisemakers
Outboard Gear
Chandler TG2 – 2 Channel Beatles/EMI Abbey Road Mic Pre
Universal Audio 2-610 – 2 Channel Mic Pre
JHS Colour Box 1073 Style Pedal Pre
Universal Audio 1176 – Compressor
Universal Audio Apollo 8 – Analog/Digital Converter
Yamaha NS10 Monitors with Bryston Power
M-Audio DSM2 Monitors
Auratone Monitors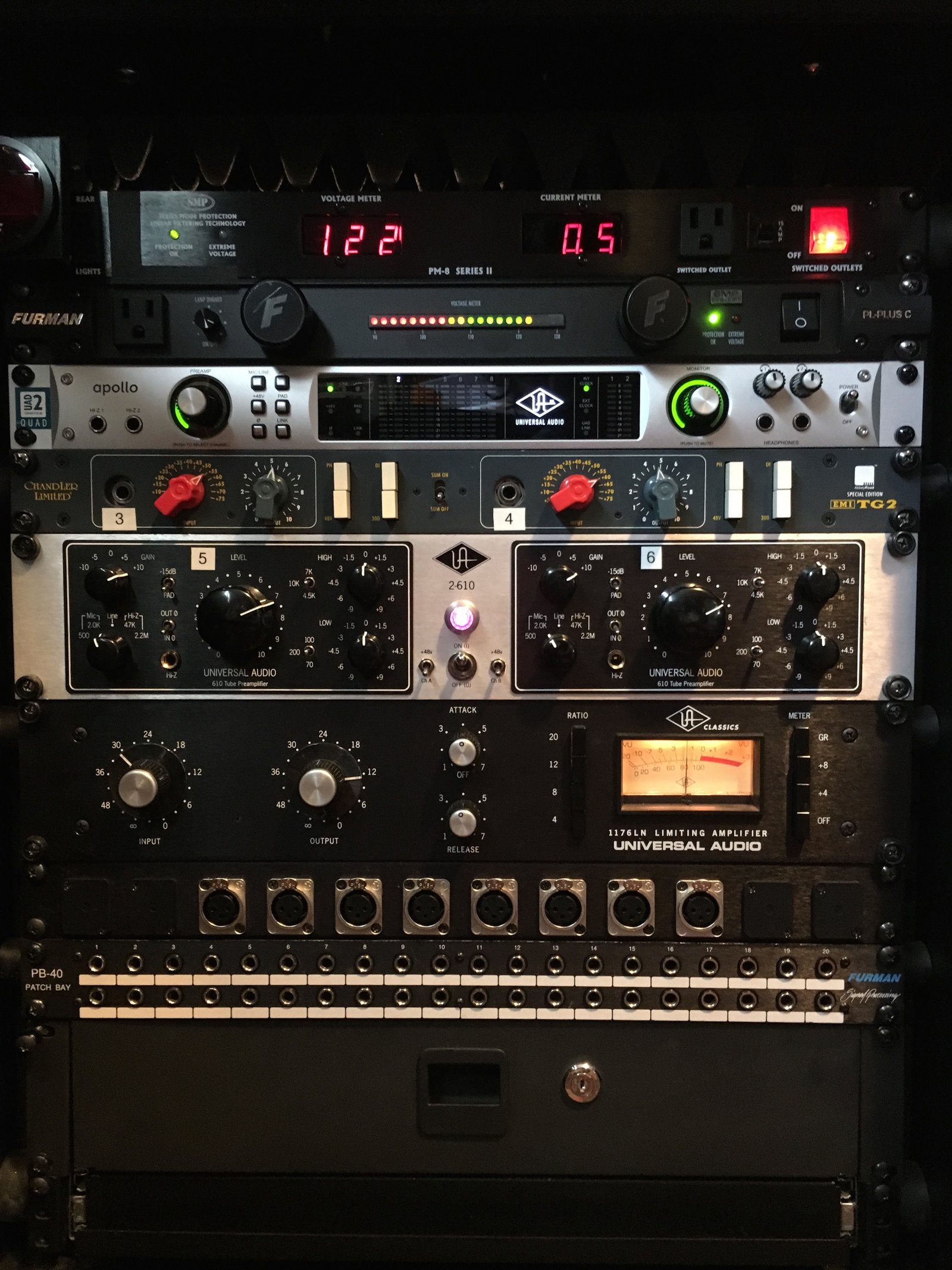 Vintage and Modern Guitar Amps Including:
Sampson-Era Matchless Chieftan
3rd Power British Dream (Marshall Plexi/Vox AC30)
1968 Fender Bassman
1968 Fender Princeton
70's Fender Deluxe Reverb
Fender Hot Rod Deluxe
Line 6/Bogner DT25
Dozens of Boutique Effects Pedals Including:
JHS, T-Rex, Menatone, Way Huge, Roger Mayer, Dunlop,  Real McCoy, Boss, Akai, Fulltone, Z-Vex, Analog Man, Electro-Harmonix, Line 6, Red Witch and more
Comprehensive Software Instrument and Effects Bundles Including:
Arturia, Native Instruments, IK Multimedia, Applied Acoustic Systems, Synthogy, Spectrasonics, Sound Toys, Waves, XLN Audio, etc.